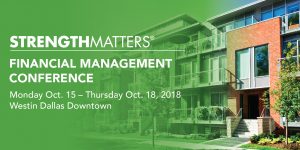 Registration for the 2018 Financial Management Conference is now closed. Please contact Omayra Colon at [email protected] for additional information.
The Strength Matters Financial Management Conference will convene more than 200 of the nation's top nonprofit community development leaders, as well as leading mission-focused for-profit colleagues and our key investment and accounting partners.
For the first time in our 11-year history, we will link the Strength Matters Annual Meeting for CEOs and financial leaders from large affordable rental developers/owners with NeighborWorks' CFO Convening, the only professional development event of its kind serving financial managers across the community development sector.
Strength Matters Annual Meeting (Invite only)
(Monday, Oct. 15, at 1:00 p.m – Tuesday, Oct. 16) 
This invitational event bringing together CEOs and CFOs in an intimate, senior level forum where industry CEOs and financial leaders will discuss current market conditions, marketplace dynamics, and critical strategies for efficient real estate financial operations.
For more information, please see the agenda. 
Financial Management Conference (Open to all attendees)
(Tuesday, Oct. 16 at 12:00 p.m. – Thursday, Oct. 18 at 12:00 p.m.) 
Two days designed to connect CFOs and other senior financial staff from across the country for peer networking and hands-on workshops. This year's topics will focus on helping to strengthen organizational capacity in rental development and ownership, lending, home building, financial reporting, and business management.
For more information, please see the agenda. 
A special conference rate of $204 per night plus taxes is available now via the Westin Dallas Downtown.